Post by coulomb on Jun 26, 2020 23:00:43 GMT 11
I've done part one of my planned LED replacement. I ordered some 4 W LED panels for the map lights and boot light, but they're located in China and won't be here for some weeks. I decided to also order this pack of 13 LEDs, which happened to be located in Australia, so only took a week: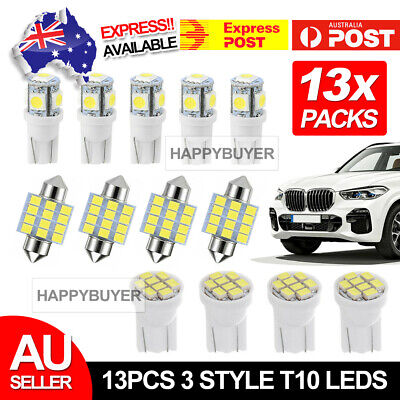 Ebay link (these seem to expire quickly):
www.ebay.com.au/itm/313026264766
There are plenty of suppliers, just search Ebay if the link doesn't work. The festoon (middle) lights aren't the largest you can get, but I determined that larger ones would not fit easily in the interior light.
One of my pet peeves is sellers not supplying enough specifications, and sure enough, very few mentioned power draw, these included. But for AU$11 delivered, I thought I could take the chance. I found that the light is about the same intensity as the original bulbs, but spread over a much wider spectrum, so they look much whiter. The original bulbs look yellow to orange by comparison. I find the white light much more pleasing.
I measured the map bulbs at 0.57 A @ 12.5 V (7.1 W). The replacements (the bottom ones in the image) draw 42 mA @ 12.5 V (0.53 W). I tried the larger ones (top row in the image) first, and they draw more power (80 mA @ 12.5 V, 1.0 W), but with most of the LEDs pointing other than straight down, they ended up giving less light. The rear licence plate has two more of these T10 5W5 wedge lights; these had 5 W bulbs in them (not measured). I replaced them as well.
The original interior (ceiling) light measured 0.63 A @ 12.5 V (7.9 W), while its replacement drew 52 mA (0.65 W). There is another of these in the hatch/boot space.
I intend to replace some of these with the 4 W panels when they arrive, if I can make them fit, and if the presumably much brighter light doesn't annoy me. These 4 W panels are the COB type (Chip On Board). These are just the semiconductor dies bonded directly to a printed circuit board, with a covering over them all with the yellow phosphor to turn the blue LED light into white light. They seem to be the best style for efficiency, compactness, and economy.
Again, there are larger panels with higher power and presumably even more brightness, but I don't think that the really big ones will fit in for example the map lights. The ones I've ordered are incredibly cheap: less than AU$4 delivered for ten of them, each with 48 LED chips! That's less than a cent per LED chip! If they're junk, I can happily toss them out and live with the LEDs I'm using now.
I won't attempt to do the indicators, because I've read how the lower current draw makes the flasher flash twice as fast (helpfully reminging you to replace your presumed blown incandescent bulb(s)). There are models that draw the same current as the originals, but then they waste as much power as the originals. Also, amber flashers are a good match for incandescent bulbs; these you
want
and indeed
need
to look yellow.